Think of the Children: Issues with writing about childhood
'I believe that I did not have a bad childhood,' Hans F. asserts in his unpublished memoir[1]. This blanket statement has more questions in it than answers. The history of childhood is currently a growing body of research–there are networks for childhood studies all over the UK and many researchers are thinking about children and childhood. Still, many issues with definitions and what it actually means to work on childhood—or on children—ought to be opened for questioning.
A pillar of social history is the study of children/childhood, as a minority group of historical research and analysis. When we— adults—study children, we impose our adult-centred impressions onto our studies without altering our perceptions of childhood. This type of analysis is best seen in Colin Heywood's A History of Childhood (2001). It looks at ideas of childhood from the Middle Ages until the early twentieth century, providing fascinating examples of parent-child relations in Europe. For example, he writes:
The main role of the mother was to prepare her daughters for life as a wife and mother. She taught them to spin and sew, how to manage a household, and, it was hoped, those virtues of humility and submissiveness supposedly appropriate to their sex.
While the book provides interesting case studies, they are from the perspective of adults—children are not given voices of their own.
Another issue with writing about childhood is definitions. Historians have to think about the nuances between childhood and children—what is it that we are actually attempting to portray? If we discuss a history of childhood, what do we actually mean? When does childhood occur? If you put this question to both yourself and a group of friends, you are likely to come to different conclusions. We can all agree that childhood is a temporary or finite state—but drawing a line between childhood and adolescence is not easy.
This definitional issue is found throughout historical works on childhood. Nicholas Stargardt's Witnesses of War avoids specifying what age defines one as a 'child' and when 'childhood' occurs. For example, the (adult) reader could well decide childhood ends at eighteen—but would the historical agent we are reading about consider themselves a child when fighting on the streets of Berlin or suffering in a concentration camp at the age of fourteen? Do horrific experiences make you more of an adult than a child? We often tie the idea of innocence with childhood: children do not know about sexual matters nor understand sexuality. This leads us to the question of children as historical agents—can we consider them to have agency the way adults do?
Thinking about childhood and children leads us to Robin Bernstein's monograph Racial Innocence: Performing American Childhood from Slavery to Civil Rights. Bernstein studies childhood as a performance, 'both on stage, and especially, in everyday life' which was enabled by 'racial projects'. Childhood playing made racial politics appear 'natural, inevitable, and therefore justified.' This dynamic is then what she calls 'racial innocence.' Childhood culture is made up from influences found in different places, 'radically challeng[ing] many established historical periods.'
Historians need primary sources on children or by children to fully study them. Yet, there are not many sources by children. Nicholas Stargardt provides wonderful drawings by children in his book—but they are not analysed nor utilized well as valid sources. In his article on the historiography of German childhood, he mentions the difficulty historians have in utilising this material. Unfortunately, he also does not provide a solution for this problem. Indeed, drawings by children provide a window into their thought process, and ideas into the culture of the period.
Let's take a look at a drawing made by a fourteen year old: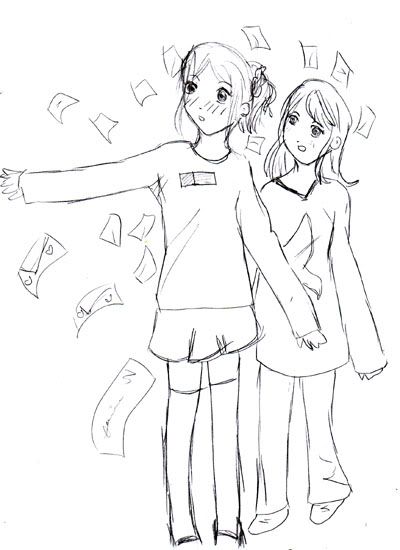 If a historian was looking at this drawing fifty years from now, of what would they have to be aware? Not only would they need to have an understanding of Western popular culture from the mid-2000s, they would have to be able to read this through the eyes of a young female in a Western European country. The larger question would be a definitional question: how does the artist understand their childhood? Was she still a child at the time this was drawn?
Going back to Hans F.'s quote shows the other issues surrounding childhood. Is childhood something that as adults we idealize or brand with certain memories? Studying childhood and children brings up many issues for historians to contemplate as the field progresses.
[1] Deutsches Tagebucharchiv Reg. Nr. 64.
Further Reading:
312954
69A2SA8W,DSCR55ZU,CDMGDCK6,5KW985VM,5E6XR78Z,XMDVDWZH
items
1
harvard1
default
ASC